The Canning River Cafe Store is Open.
We look forward to sharing our amazing products with you to purchase.
Pick up in store or charged delivery available.
Featured Products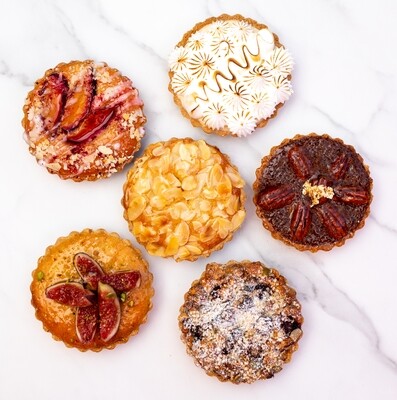 The Tart Collection 1 [ 8 Tarts ]
The Tart Collection 1 [ 8 Tarts ]
The very best handmade tarts boxed & ready to gift.
Sweet Treats
Boxed tarts and sweet slices ready to take to work or home.
Order to Pick Up or arrange Delivery.
---
We have created a selection of sweet treats that are made by our sister company The Tartery.
They are delicious and made by hand, are gluten free and dairy free (you wouldn't know) - order now for tomorrow.
We look forward to serving you all.
Merchandise
Classic T's with the Canning River Cafe logo and our Simply. Loving. Food. motto are great to wear and /or gift.
Other merchandise items to come. We will show them here.
Gift Cards
We have the most amazing $5 gift cards - they do not come in different denominations - $5 is all they are. They sparkle and shine and are amazing as treats and gifts for employees and students. friends and family. Inexpensive but look like a million dollars.
Different denominations & electronic gift cards can be found here via a different portal.
SHOP FOR GREAT THINGS AT HOME